A hilarious comedy by co-authors Henry Lewis, Jonathan Sayer, and Henry Shield, members of the aptly named Mischief Theatre Company, PETER PAN GOES WRONG follows on the heels of Tony-Award winning "The Play That Goes Wrong." First presented in the UK in 2012, the earlier entertaining hit made its West Coast debut at the Ahmanson Theatre in 2019. Now comic mayhem and ridiculous slapstick have returned to Los Angeles with PETER PAN GOES WRONG.
The Mischief Theatre Company have gone way over the top with J.M. Barrie's classic "Peter Pan," an exuberant and uproarious comic caper which is at the same time magical and mindless. When the fictitious Cornley Polytechnic Drama Society decides to produce – on a shoestring budget, of course – "Peter and Wendy," the bumbling amateurs have definitely overstepped their limits. As everything that could possibly go wrong does just that, the riotous shenanigans and disorganized chaos will propel the audience into gales of laughter. From the bumbling flights of an airborne Peter Pan to collapsing beds and daring stunts, the company members display finely-tuned and inspired slapstick whose timing will boggle the mind.
Adding an extra ounce of mirth, the role of narrator is taken on by special guest stars Bradley Whitford (to August 27) and Daniel Dae Kim (August 30 to September 10), funny gentlemen indeed. One can't help but chuckle at Whitford's comment that he wouldn't be there but for a certain strike. Kudos are also in order for director Adam Meggido (who proved that he is fully capable of herding cats) and the ambitious ensemble cast, including Greg Tannahill. Brenann Stacker, Chris Leask, and Nancy Zamit – to name but a few of the mischievous Mischief Theatre crowd populating the Cornley Drama Society. Roles are flexible, and actors shift and change with the tide. Yet the total effect is, to put it quite simply, perfect.
Kudos are also in order for Simon Scullion's carefully planned and executed scenic design which harbors all the monkeyshines, including a bedroom where the Darling brood may occasionally sleep and where a certain Peter misplaced his shadow, a rocking and swaying pirate ship housing the notorious Captain Hook, and – definitely to be expected – a truly fantastic Neverland. Overall, the production team has done a bang-up job of creating Peter Pan's world, including Roberto Surace's costumes, Tommy Kurzman's wigs and make-up, Matthew Haskins' lighting, and Ella Wahlstrom's sound. PETER PAN GOES WRONG is definitely an exquisitely well-coordinated group effort.
PETER PAN GOES WRONG will certainly be just right for an audience seeking laughter and entertainment with a capital E. The Mischief Theatre Company has clearly found the cure for the post-pandemic doldrums. For all you comedy buffs out there, this is a must-see production. For any Scrooges out there, this show can't fail to make you titter – or maybe even giggle.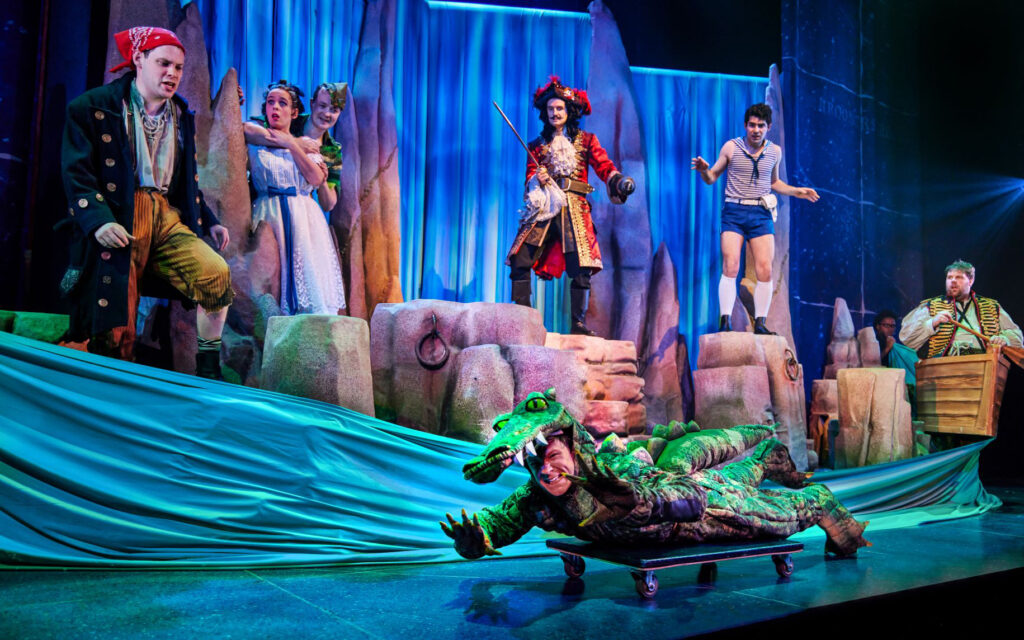 PETER PAN GOES WRONG runs through September 17, 2023, with performances at 8 p.m. on Tuesdays through Fridays, at 2 p.m. and 8 p.m. on Saturdays, and at 1 p.m. and 6:30 p.m. on Sundays. The Ahmanson Theatre is located in the Music Center, 135 North Grand Avenue, Los Angeles, CA 90012. Tickets begin at $40. For information and reservations, call 213-628-2772 or go online.