Montana-Made Documentary RETURN Plays Two New Film Festivals; Launches Kickstarter Campaign for Community and Impact Screenings Billings, MT, August 22, 2023—The Montana-made documentary RETURN will reach new screens and audiences at the upcoming 6th Annual MINT and WYO film festivals in Billings, MT and Sheridan, WY, respectively, as well as through a crowdfunding campaign through Kickstarter.Director Pete Tolton and Producer Stan Parker will be in attendance for Q&A sessions at both the MINT (Saturday, September 23) and WYO (Sunday, October 1) screenings. The Kickstarter fundraising campaign is already underway and runs until Sunday, September 10.
RETURN is the story of adventure, struggle, and healing that follows Jim Markel Sr., a retired Green Beret, as he voyages from Montana to Vietnam for the first time since the war. In retracing his steps with his adult son, he reflects on his past actions as both soldier and parent. Together, father and son embark on a deep search: for long-overdue family healing, for the roots of PTSD, and for the mountain tribes Markel once lived with, fought alongside, and was eventually forced to abandon 45 years ago.The film World Premiered at the Big Sky Documentary Film Festival this February, where it earned a nomination for the Big Sky Award, which recognizes films "that artistically honor the character, history, tradition, and imagination of the American West.""We have a lot of friends, family, and supporters who still haven't seen RETURN yet, and we can't wait to show it to them at the MINT Film Festival here in our hometown," director Pete Tolton says.
The film is poignant and very beautiful. I found it moving and it brought back those very difficult years and the really terrible treatment our brave service people received as a result of serving in this war. The cinematography is outstanding. Father and son will steal your heart.
The very next weekend, RETURN will be the closing film for the WYO Film Festival in Sheridan. "Montana and Wyoming are both home to many veterans—they comprise about 10 percent of the population of both states," producer Stan Parker says. "We hope this film shows all veterans that their stories are valued."Ranking in the top three states for death by suicide, "Montana and Wyoming's mental health crises are probably among the worst in the US, so while these issues matter everywhere, it's particularly important to discuss mental health here in the Mountain West," Tolton adds.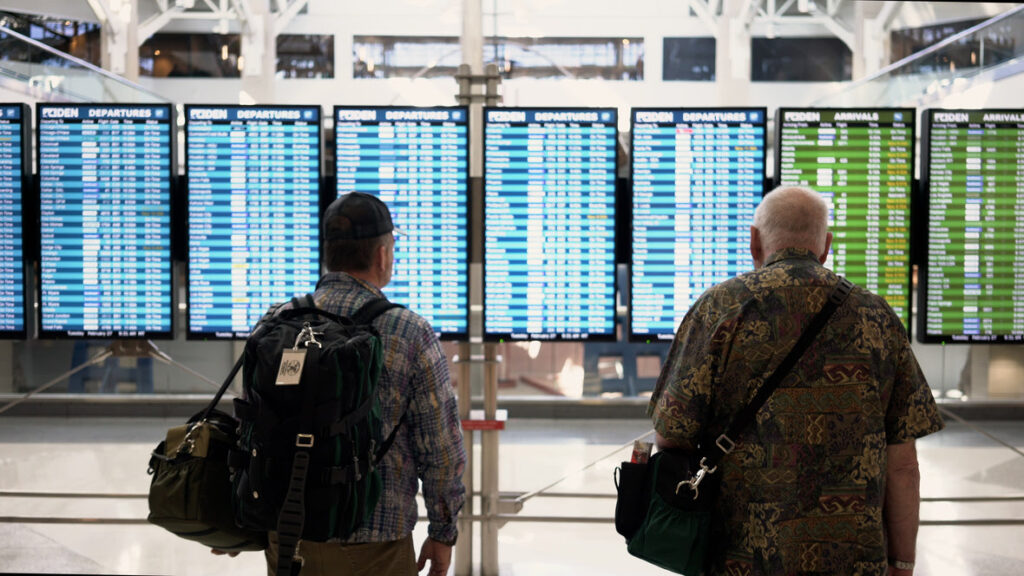 Kickstarter Campaign
The Kickstarter campaign, running for 30 days, will offer DVD pre-sales to backers. Proceeds from the campaign will fund:
● Additional community screenings across Montana
● The production of K-12 and university-level supplemental educational materials
● An impact campaign, which will add educational, cultural, and community-building programming to film screening events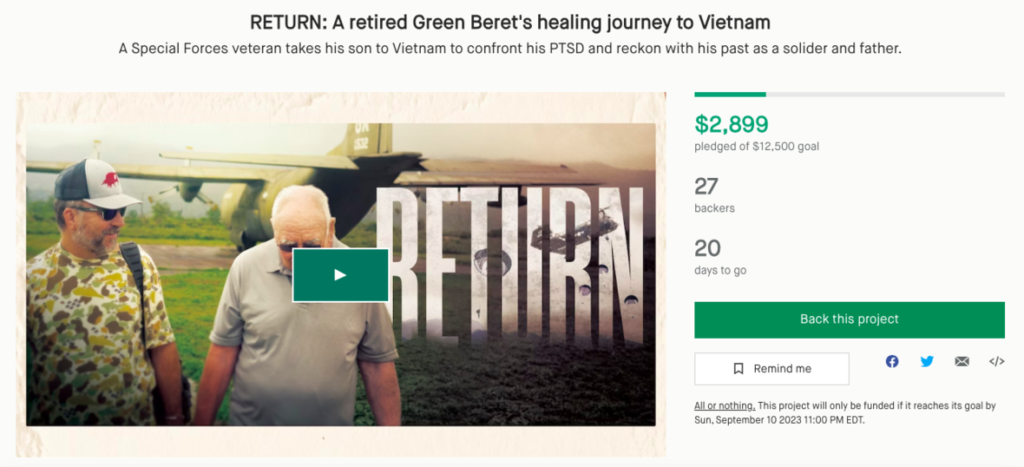 Community Screening Tour 
In addition to Billings and Sheridan, the filmmakers have identified four communities in the region where they would like to screen the film as part of the screening tour, and they hope to reach additional cinemas if they exceed their minimum Kickstarter goal.
Impact campaign 
The impact campaign will help audiences make connections between RETURN's themes and real-world ideas and issues, especially relating to veteran experiences and mental health issues.The goal is to erode stigmas about PTSD and other psychological wounds, connect veterans to the services they've earned, spark conversations, educate audiences about suicide prevention, include families and communities in the process, and elevate programs committed to this important work.
"With the impact campaign, we can bring in outside voices who can add to the conversation. We'll show audiences some of what we learned along the way that we weren't able to put in the movie," producer Stan Parker says."It's about giving the messages from the film a life beyond the film," Tolton concludes. "We look forward to collaborating with the suicide prevention community, veterans groups, artists and musicians, and academics and community leaders to use RETURN as a tool for the important work they're already doing."
MINT Film Festival Screening
Saturday, September 23 at 2:45PM MDT
Babcock Theatre, 2810 2nd Ave N, Billings, MT 59101WYO Film Festival Screening
Sunday, October 1 at TBD MDT
WYO Performing Arts Center, 42 N Main St, Sheridan, WY 82801
WYO Film Festival Screening
Sunday, October 1 at TBD MDT
WYO Performing Arts Center, 42 N Main St, Sheridan, WY 82801