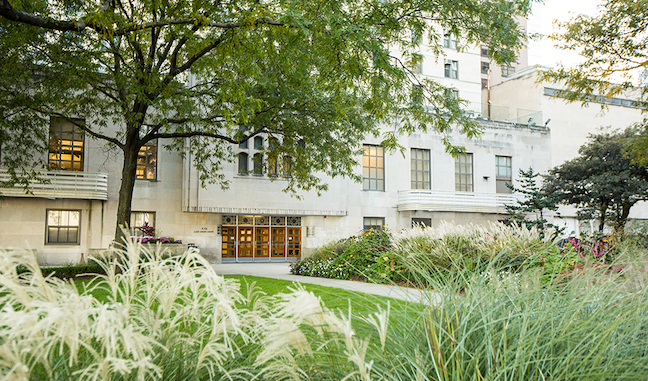 Northwestern University's Virginia Wadsworth Wirtz Center for Performing and Media Arts in Chicago will host three innovative productions this fall including Roger Guenveur Smith and Marc Anthony Thompson's "Otto Frank" (Oct. 5-7); a reading of "In the Beginning There Was House" (Oct. 20-21) by Universes founders Steven Sapp and Mildred Ruiz-Sapp; and "Confessions of a Cockney Temple Dancer" conceived, created and performed by U.K. performer Shane Shambhu (Oct. 26-28).
"All three of these fall offerings are by celebrated writer-performers who are drawing on important historical figures or cultural traditions to tell intimate personal stories that resonate across time and place," said Tanya Palmer, assistant dean and executive artistic director for Northwestern's School of Communication. "Each performance is distinct, but all of them grapple with art's ability — in the face of real damage and devastation — to heal us."
Fall 2023 programs at Wirtz Center Chicago include:
"Otto Frank"
Oct. 5-7
Created and performed by Roger Guenveur Smith
Sound design by Marc Anthony Thompson
Obie Award-winning collaborators Roger Guenveur Smith and Marc Anthony Thompson have devised the new work "Otto Frank," inspired by the father of diarist Anne Frank.
Smith's intimate meditation, scored live by Thompson, illuminates our present moment through a rigorous interrogation of our not-so-distant past. Smith's version of Otto Frank addresses his daughter beyond her time and his own, navigating his loss as the only survivor of his immediate family and negotiating his subsequent service to the living and the dead as the steward of her work.
"In the Beginning There Was House"
Oct. 20-21
Written by Steven Sapp and Mildred Ruiz-Sapp
Directed by Chay Yew
Inspired by the life and work of Chicago house music legend Frankie Knuckles, genre-fusing duo Steven Sapp and Mildred Ruiz-Sapp will present a reading of "In the Beginning There Was House," a new work originally commissioned by the Goodman Theatre. Obie Award-winning director Chay Yew directs.
Sapp and Ruiz-Sapp are the founders of Universes, a collective founded to create moving, challenging and entertaining works for the stage. They will serve as the School of Communication's inaugural Astere E. Claeyssens Artists-in-Residence, teaching and mentoring students during the 2023-24 academic year.
"Confessions of a Cockney Temple Dancer"
Oct. 26-28
Conceived, created and performed by Shane Shambhu
Presented in association with the Physical Theater Festival Chicago
In this funny and visually stunning one-person show, Shane Shambhu reveals the secret life he kept from his school friends while growing up in the cultural melting pot of East London and training in the Indian performing art of Bharatanatyam. Combining physical theatre, spoken word, Indian dance, film and an original score, this coming-of-age story draws on Shambhu's lived experience, capturing the multiple identities that the children of migrants growing up in the U.K. develop to show one face at home and another to the outside world.
Tickets
Tickets for all three programs are available through the Wirtz Center website, by calling the Wirtz Center box office at 847-491-7282, or visiting the box office which is located on the Evanston campus in the Barber Theater lobby, 30 Arts Circle Drive.
Box office hours are Tuesdays through Fridays, 10 a.m. to 5 p.m., and Saturdays, noon to 4 p.m.
Tickets (cashless) also are available at the door one hour before curtain, based on availability.
About Wirtz Center Chicago
Since the fall of 2021, Wirtz Center Chicago, located at 710 N. Lake Shore Drive on Northwestern's Chicago campus, has presented new, professional works by visiting artists and ensembles, including Atlanta-based Alliance Theater's production of "Native Guard," based on the Pulitzer Prize winning book of poems by Natasha Trethewey, as well as student productions and events.
Located inside Abbott Hall, Wirtz Center Chicago is a state-of-the-art facility that fosters innovation among local and visiting artists, scholars and theatre makers. Minutes from the Loop and within walking distance of several of Chicago's most renowned cultural and performing arts spaces, Wirtz Center Chicago offers two new black box theaters, an expansive lobby space and rehearsal rooms –– all much-needed resources for artists and small theater companies looking to create and showcase their work. Audiences can also take advantage of free parking in the lot adjacent to the theater.
"In the wake of the COVID-19 pandemic, some theaters and performance spaces that supported new plays and musicals were shuttered," said Palmer. "The new Wirtz Center Chicago expands Northwestern's ability to incubate and develop new performance works and fills a growing need for venues presenting innovative work from local, national and international artists to Chicago audiences."