"It can be said that for everything we wish to learn or want to become there is a road to follow," says David Friedman, former U.S. Ambassador to Israel in the trailer for TBN and Fathom Events newest spiritual-historical travelogue, "Route 60:The Biblical Highway." The film is a compelling and beautiful immersion, with Biblical story narratives, into Holy Land travel and will be screened in over 1,000 theaters across the US September 17 and 18.
Friedman is joined by Mike Pompeo, former US Secretary of State as co-host and traveling companion. The two journeyed along the 146mile-long roadway also referred to as "The Path of the Patriarchs" and explored the places on and stories attached. Viewers are treated to each of these men sharing his own remembrance of respective faith journey as they visited these sites of Biblical and historical significance.
"From the beginning," Friedman continues in the trailer, "the road to believing in only one true God, the maker of heaven and earth, has carved its route through the ancient land of Israel. It is with this sense of awe and wonder that viewers can embark on their own journey with these two men leading us along the roadway that Abraham, the father of nations, walked, as the first believer in monotheism, and that same route upon which God visited him and promised that his descendants would be as numerous as the stars from the sky…and that same roadway walked by Jesus, the central figure of Christianity…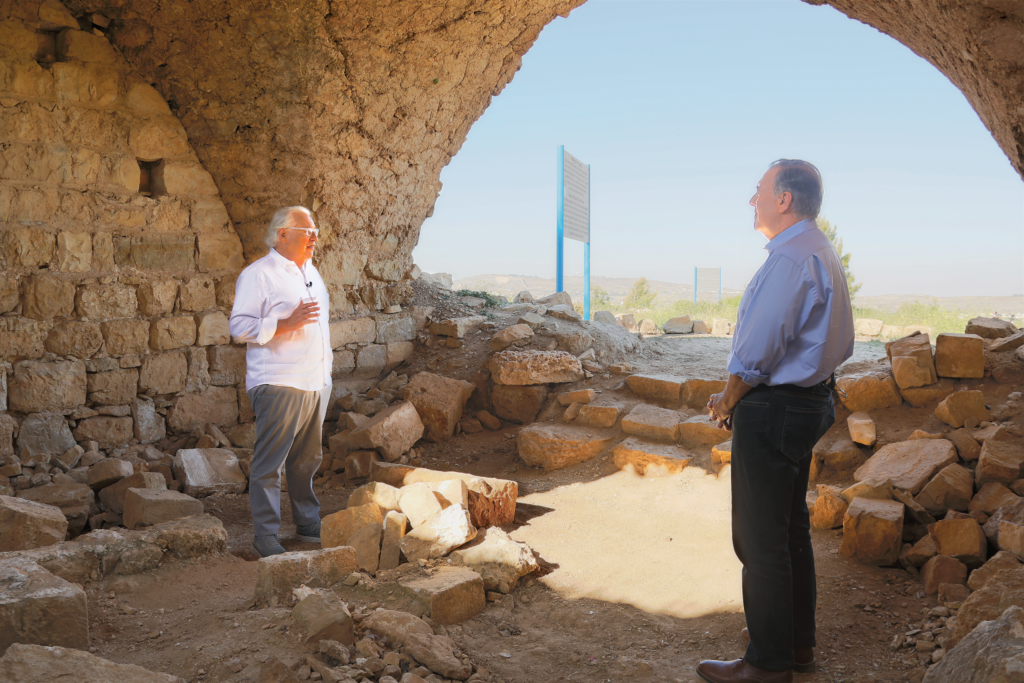 Since this ancient route bisecting Israel- now in modern-day referred to as just "Highway 60"- is so deeply symbolic in the story of God that is shared by Jews and Christians, we more than appreciate the pairing of Friedman, an Orthodox Jew, and Pompeo, a devout Christian for this particular project. It is both touching as well as edifying to see these two men visiting with various religious leaders and interacting with various other, interested persons as they travel, explore, reminisce, and ponder.
Route 60 also includes rare footage taken on location, combined with a wonderful story montage. This sets the scene and illuminates as to connection with relevant scripture. The film offers a wonderful opportunity for armchair travel to those those wishing to visit the Holy Land but who are unable or not yet ready. It might also serve as a way to plan one's trip since the pair visit many sites of significance from Nazareth to Beersheba, including the Cave of the Patriarchs, in Hebron, where Abraham, Isaac, Jacob, Sarah, Rebecca, and Leah are buried. Whichever the case, this film offers an unforgettable opportunity to experience Israel from both a Jewish and Christian perspective, simultaneously, and from men of deep faith who also operate in a highly secular world.
Executive Producer, Matt Crouch has sent a gift to those embracing their Abrahamic faith- and wonderful statement of the importance of peace and the preservation of these sites not only for their religious, historical, or archeological value, but also for their reminding presence as testament to our God, the Creator of the all things.