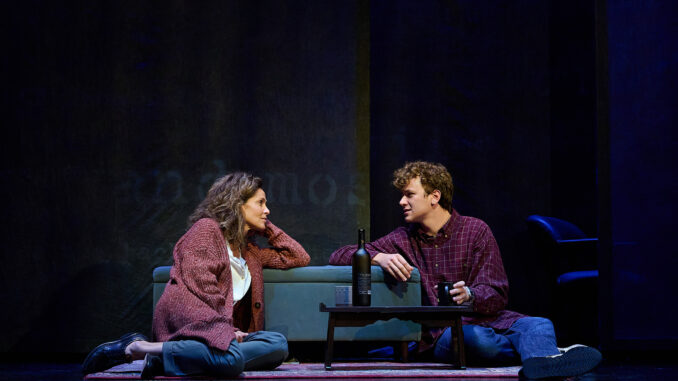 First presented in 2018 at the Williamstown Theatre Festival and then making its debut on Broadway in 2019, THE SOUND INSIDE received the Outer Critics Circle Award for Outstanding New Broadway Play, was nominated for six Tony Awards, and was a Pulitzer Prize finalist. Now author Adam Rapp's acclaimed play comes to the Pasadena Playhouse in 2023 starring accomplished actress, director, producer, and activist Amy Brenneman and helmed by multiple award-winning director and filmmaker Cameron Watson.
Amy Brenneman – Photo by Mike Palma
Bella Lee Baird (Amy Brenneman) is a 50-something tenured Yale professor of creative writing. Her life for over two decades has been relatively uneventful: She is "sneakily attractive;" she had one novel and two slim volumes of short stories published unsuccessfully over 17 years ago; she lives in faculty housing and has few possessions; she is unmarried and has no close friends; her students are cooperative if sometimes disinterested – and then suddenly two events leap into her life unannounced. While teaching a freshman class of ho-hum students, the quietest guy sitting in the back row suddenly shouts out his intention to write a scene to equal Raskolnikov's pivotal moment in Dostoyevsky's "Crime and Punishment." Her subsequent meeting with the brilliant, brash, and entitled would-be novelist Christopher Dunn (Anders Keith) will change her life forever. The second event will also have profound implications. Soon after meeting Christopher, Bella is rushed to the emergency room after passing out with agonizing stomach pain and finds out that her "stomach is riddled with a constellation of tumors" and her diagnosis of cancer verges on terminal.
Anders Keith and Amy Brenneman – Photo by Mike Palma
THE SOUND INSIDE will examine the juxtaposition of these two "outliers" who seem alienated from others – and also perhaps from themselves – as they exhibit the approach-avoidance conflict of two people who are not accustomed to any sort of intimacy, even platonic. Each has a story to tell – and no one to listen. Perhaps the key to their obsession with writing, itself a solitary pursuit.
Amy Brenneman – Photo by Mike Palma
Skillfully directed by Cameron Watson, THE SOUND INSIDE focuses on Bella, a very complex woman who doubles as the narrator of the tale. At times, she speaks to the audience – and, at times, seems to be talking to herself. While she lives in this world, she often does not appear to be of this world. In fact, her world is made up of varying shades of gray; color is absent – except, perhaps, in her inner world, where her caustic humor and keen observations have a life of their own. Brenneman does a superb job of bringing Bella's world to light as she navigates her journey. She is ably assisted by Anders Keith, who proves to be a strong foil for her meanderings. He doesn't say much, but he carves a memorable swath in the story.
The production team also does an excellent job of bringing the quiet but on occasion electrically charged atmosphere to the fore, from Tesshi Nakagawa's scenic design – filled with shadows and bland furniture depicting Bella's very ordinary life – to Jared A. Sayeg's lighting, which subtly lets the audience know when the action might be fantasy or reality or somewhere in between. THE SOUND INSIDE is a psychological study which unfolds slowly and carefully as it tracks the lives of two lonely, isolated people. There are some surprises and occasional humor, and the audience will certainly remain gripped by the mysteries uncovered in this nuanced production.
THE SOUND INSIDE runs through October 1, 2023, with performances at 8 p.m. Wednesdays through Fridays, at 2 p.m. and 8 p.m. on Saturdays, and at 2 p.m. on Sundays. The Pasadena Playhouse is located at 39 S. El Molino Avenue, Pasadena, CA 91101. Tickets start at $35. For information and reservations, call 626-356-7529 or go online.