The pandemic changed Las Vegas' buffets forever, however, in the Aria Resort and Casino, the latest Clique Hospitality creation is Proper Eats, an innovative dining experience that elevates the joy of eating in this food-hall setting. This new concept of dining, located on the second-floor promenade of the Aria, has a plethora of culinary choices including a full bar with specialty drinks that complement each designer meal.
Proper Bar | Photo Courtesy of Jeff Green
Dining highlights include Temaki Bar's Poke Bowl and made-to-order hand rolls, Seoul Bird's Crispy double-fried chicken, Laughing Buddha Ramen's Bau buns and Tonkotsu Ramen, Pizzaoki's New York–style pizza, and a hidden gem called Easy's Cocktails (open 6pm – 2am daily) secretly placed and highlighting Show Stoppers along with caviar service. (For specific details on each dish and stand, scroll below).
Game Day has never been better than with the Ultimate Football Tailgate Experience. Every Sunday you can enjoy all-you-can-eat for only $55 (Except Temaki Bar which is $20 extra). TVs are brought in specifically for Game Day so you can view them from anywhere in Proper Eats' Lounge and Proper Bar. At half time enjoy a game of Foos Ball or Tabletop Shuffleboard or just enjoy the luxurious surroundings and open floor setting. Additionally, Proper Bar has brunch on weekends from 11 am – 3 pm and for only $21 you can indulge in Bottomless Mimosas and Bloody Marys. Proper Eats also offers Oyster Happy Hour.
Ordering at Proper Eats can be done via the various kiosks or with QR codes at each table. Here you can order exactly what you want with add-on or deleted items. You can also order to go easily through the Aria's website or use it to dine-in and avoid long waiting times.
Perfection in hand rolls is what Chef JoJo Ruiz delivers with beautiful fresh fish, and warm rice with the added crispiness in each delectable bite. Temaki Bar's hand rolls are prepared counter-side and made-to-order highlighting blue crab, yellowtail, salmon, and the restaurant's signature Tuna Roll. The Poke Bowl is especially scrumptious with its abundance of tuna surrounded by tasty seaweed salad, and pickled onion is a Hawaiian delight. The rolls have an extra crispiness to offset the generous portions of fish and rice for a favorable experience along with a Sake to Me cocktail.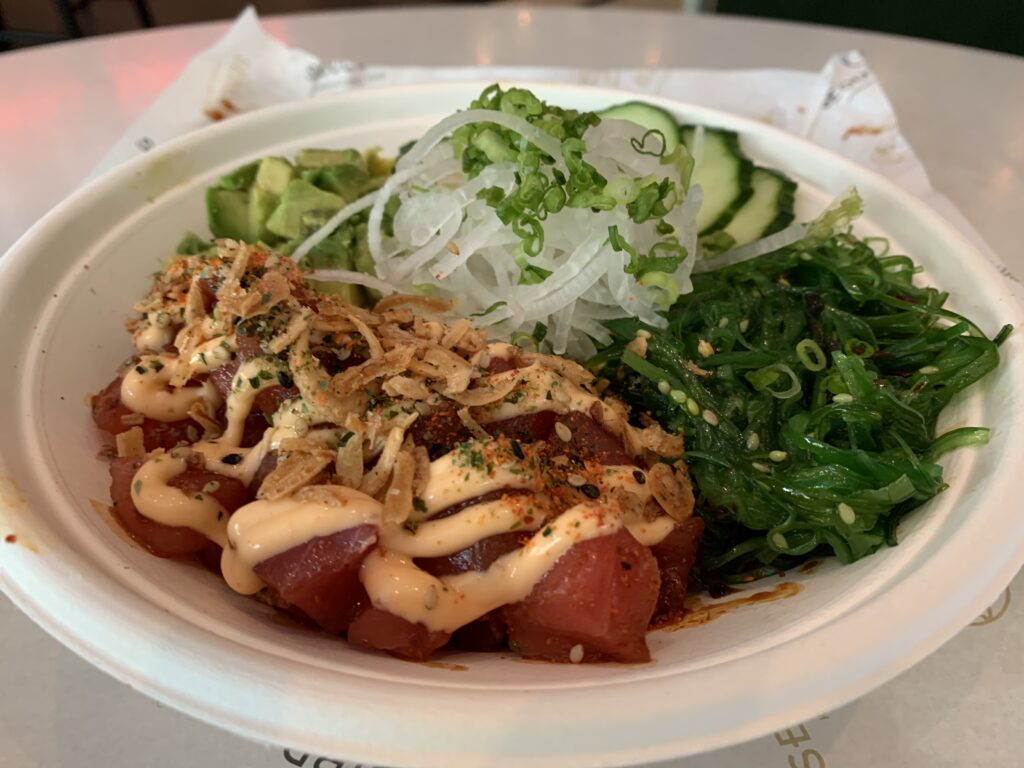 If you love fried chicken, you must have the Korean version of the Crispy double-fried chicken sandwich. It is placed on a potato bun and flavored with kimchi slaw, Kewpie mayo and American cheese. Chef Judy Joo partners with Andrew Hales to bring Seoul Bird all the way from London. All orders give you the opportunity to add or delete sauces, condiments, or buns.
Pizza party begins with thin-crust slices or whole pie purchases. These New York style pies are Steve Aoki's creations named after his music as a renowed DJ. Pursuit Of Happiness Cheese Pizza: Mozzarella, marinara sauce, basil, Ibiza Spicy Margherita Pizza: Buffalo mozzarella, basil, chili flakes, sundried tomatoes, White Pizza – Boneless: Ricotta, oregano, bianca sauce, Hiroquest Meat Lover's Pizza: Pepperoni, sausage, capicola, tomato sauce, and the No Beef Veggie Pizza: Roasted vegetables, mushrooms, ricotta, basil, tomato sauce. You can also order Tuscan or Caesar Salads.
Burgers just got better at Lola's Burgers with the Backyard Classic, the Impossible Burger (Vegan), and the favorite Smash Burger. Additionally, what makes Lola's so special is the add-on choices of maple-cured bacon, fried egg, or protein style. The make it a meal includes Crispy onion rings or Garlic Truffle Fries, or Lola's Way which includes both yummy sides. The Smash Burger has added surprises including a buttery bun, and a Russian dressing; along with a double patty that are crispy around the edge, melted American cheese, grilled onions, and pickles or create your own with whatever you like.
Egghead gets quite busy so the phone app is the way to go when ordering your favorite breakfast meal. There are four main sandwiches which OG'd in Manhattan, New York after the neighborhood vibes. The Soho is a typical scrambled egg, American cheese and bacon. The Midtown includes Fried egg, crispy bacon, American cheese, sliced tomato, fried shallots, with spicy aioli; The Chelsea is the same as Midtown except for the sausage and The Greenwich Village contains Scrambled egg whites, kale, avocado, caramelized onions, tomato, and American cheese. Don't forget to add the Cheesy Hash Brown with young pecorino cheese for cheesy goodness.
Tonkotsu Ramen is a can't miss hit. This rich broth ramen is loaded with Char siu pork, black mushrooms, bamboo shoots, and green onions. It is a hearty meal that is available in vegetarian style and can be shared if you want to try a variety of edible eats at other stands. The uniqueness of ordering at Proper Eats is that you can personalize your order adding or deleting to your perfect ramen. Other faves include the Bao buns, stuffed filled with either pork belly or crispy eggplant and again made-to-order with your favorite ingredients.
Mediterranean cuisine at Proper Eats is good food quickly. The theme being "good food truly speaks for itself." Originating in Portland, Oregon, Shalom Y'all is Proper Eats' place to enjoy Shawarma Spiced Cauliflower Bowl, Chicken Shawarma Pita Sandwich, or Nazareth Kabob Plate. The signature dish is the Shalom Plate featuring falafel, tahina, labneh and velvety, warm hummus served with their pillowy soft, fresh baked pita.
Open for breakfast and lunch, Wexler's offer a myriad of bagels and sandwiches. This Jewish Deli is known for its popular Smoked Salmon and Pastrami that are smoked to perfection, cured, and hand-sliced in-house. Using only high quality ingredients, Wexler's pride themselves on meeting client's palate needs. For the more opulent guest The Moe Greene features lox, paddlefish, gold leaf, topped with caviar otherwise go with the OG or the Sam Rothstein Pastrami Reuben with Swiss cheese, Russian dressing, and sauerkraut between slices of grilled rye bread.
Eat them up…yum! Although the donut here is the star of the show with Classic and Premium choices you can also indulge in croissants, muffins, seasonal fruits, or parfaits. This coupled with a good coffee: Drip, Espresso, Americano, Macchiato, Cappuccino, or Latte and your set for a fabulous day.
A charming speakeasy, Easy's Cocktails is secretly veiled behind Easy Donuts. This upscale menu with its bougie feel, features a host of classics including Old Fashioned, Cosmos, Manhattans along with elevated cocktails labeled Show Stoppers. The Smoke Show highlights an Angels Envy Bourbon, banana liqueur, sweet vermouth, chocolate bitters, tobacco wrapped chocolate, candied cigarettes that is served with a dry ice smoking ashtray, all in a cigar box. There's even Caviar Service for those who want to indulge, where the delicacy is brought out in a faux Fabergé egg.