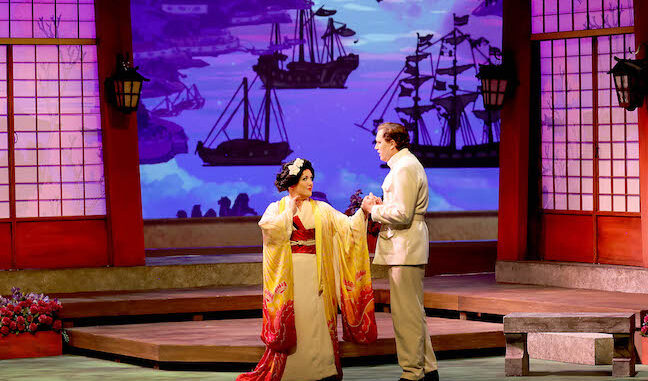 West Bay Opera delighted its patrons October 15th by performing Puccini's brilliant opera, Madama Butterfly the way it was meant to be performed. Sung in the original language, Italian, with the classic tragic libretto unchanged, this performance was spellbinding in its beauty and gut-wrenching in its emotion. The tragedy of the timeless libretto (English translations on screens were easy to see but not distracting) was felt by those of us lucky enough to be surrounded by some of the most beautiful voices in the world. The theater temperature was comfortable, but I must admit I had chills for much of the performance, evoked by the pure beauty of both the soprano and tenor
voices.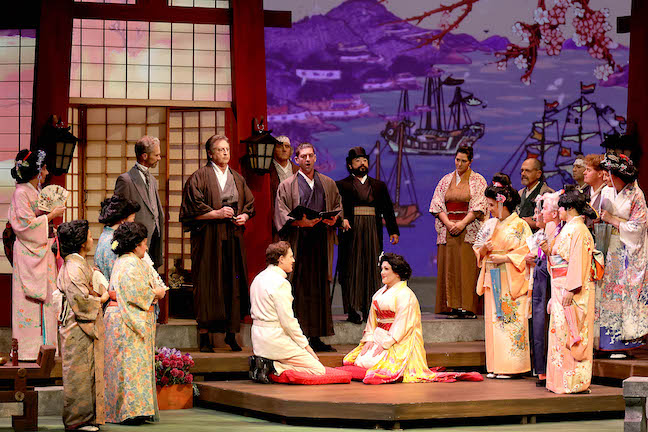 I am new to the Bay Area, and I hope residents of Palo Alto and the surrounding towns realize
how rare it is that community theater can provide a world class opera like this one. This theater
is one we need to cherish, as it allows us to experience opera at the highest level in a
comfortable, intimate setting without spending a fortune or dealing with transportation and
parking issues. People who think opera is not for them might change their minds after attending
Madama Butterfly at West Bay Opera.

Madama Butterfly was written in 1904, based on the play by David Belasco, "Madame Butterfly:
A Tragedy of Japan." Giacomo Puccini wrote the score; Luigi Illica and Guiseppe Giacosa
authored the libretto. The story is set in Nagasaki in the early 1900's. It unfolds in 3 acts
spanning 3 years.
Act 1 begins as American naval officer, Benjamin Pinkerton, rents a house in Nagasaki. The
house comes with servants and a geisha wife, Cio Cio San, known as Madama Butterfly.
Pinkerton decides to marry her in a formal ceremony, without regard to what the commitment
means. She falls in love with Pinkerton and believes the love is mutual. Pinkerton returns to
America, but vows to come back for her. She does not tell him she is pregnant with his son.
Butterfly's family shuns her.

Three years pass. As Act 2 opens, Butterfly is nearly destitute, but still believes her husband will
return. She watches for him and eventually is rewarded by the arrival of his ship.
Unfortunately in the final Act, Pinkerton returns with an American wife. He is remorseful, and
promises to take his son and care for him. Devastated, Butterfly gives up her son and commits
suicide just at the moment Pinkerton comes in to look for her, but her sacrifice is complete.
The original play was popular at the turn of the century because audiences around the world
saw Pinkerton as an allegory for the American empire: well meaning, but not fully aware of its
impact on the cultures with which it came into contact. This Puccini masterpiece is timeless.
West Bay Opera's version did enhance the experience with fabulous sets, an amazing
orchestra, and a soprano who graced the set every time she took the stage. But it remained true
to the original. I would praise them so highly for that alone, yet there are so many other reasons
to go see this opera in this intimate setting.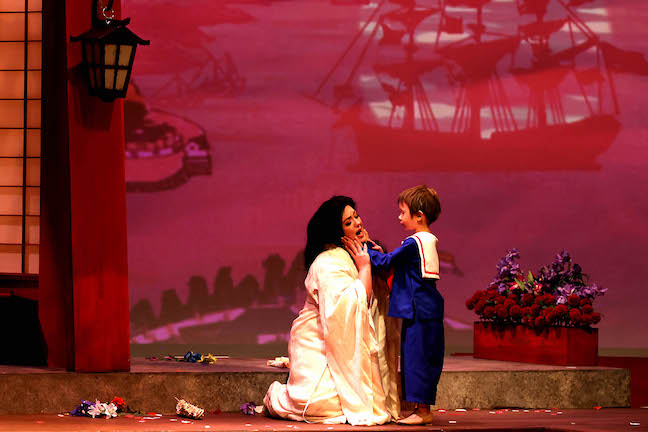 Toni Marie Palmertree, soprano, was breathtaking in her performance as Cio Cio San. She has
graced the stages of the Metropolitan Opera, Chicago Lyric Opera, San Francisco Opera, and
other venues of global fame. She knows how to draw an audience in to her story and make
them feel her joys and her pain. As I said, her voice gives you chills.
Tom Mulder, tenor, is world famous as well. He commanded the stage as Pinkerton. His voice
also brought chills with its purity. While the emotions he evoked from the audience were not
always good, they were exactly those that were intended. Tom Mulder had the right inflections,
expressions and gestures to portray Pinkerton as he was meant to be portrayed.

Mariya Kaganskaya, mezzo-soprano, sung the part of Suzuki, Madama Butterfly's maid and
confidant. While Ms. Palmertree commanded the stage, Ms. Kaganskaya held my attention with
every note she sang. Her mezzo-soprano solid strength was the perfect compliment to
Butterfly's emotional soprano.

Daniel Cilli, baritone, portrayed the American Consul with the emotion that was probably echoed
by everyone in the audience. He is powerless to prevent the tragic story from unfolding and
appears ashamed of how Pinkerton behaves. This role cannot be easy, but Mr. Cilli's
performance and his voice were just right.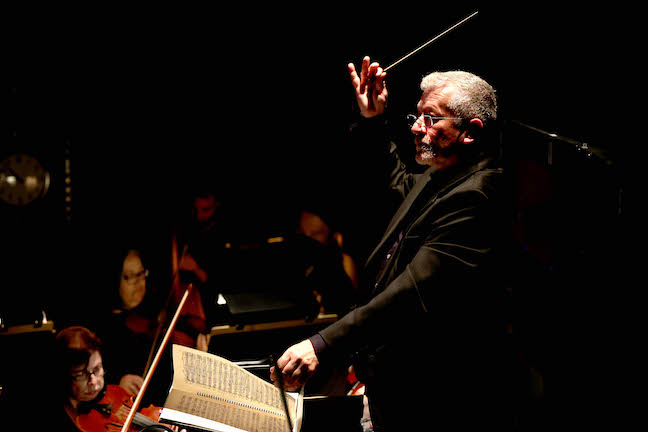 I don't have space to mention all the cast members; they were fabulous. I do have to give
special thanks to the orchestra, and Jose Luis Moscovich, the conductor. Their role in this
opera is critical. The emotion waxed and waned with the music. The emphasis of each section
of the orchestra was perfectly placed in each scene. The musicians do not get individual
recognition, but I noticed how they made this opera flow.
The West Bay Opera's 68th season is too short. Madama Butterfly only runs through next
weekend. Their second program is Corpus Evita which opens February 16th. It provides an
unbelievable opportunity for those of us in the Bay Area to enjoy world class opera in our
community setting. For information about the theater location, performance times, and tickets,
visit their website. The theater is located within the Lucie Stern Community
Center. The box office number is 650-424-9999
Photos: Otak Jump