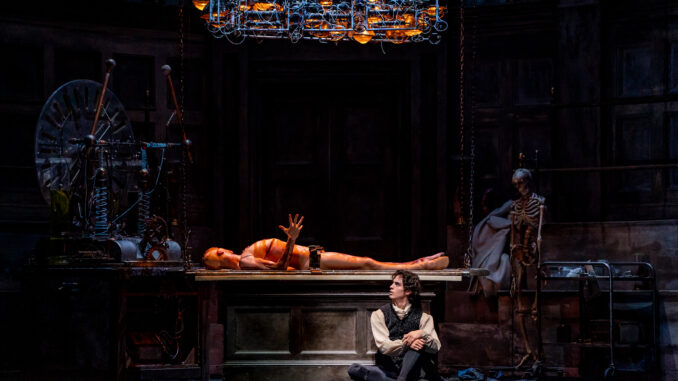 The Joffrey Ballet has opened the 2023-24 season with the highly anticipated Chicago Premiere of Liam Scarlett's Frankenstein. Based on Mary Shelley's 19th-century novel-turned-pop culture classic, this ambitious production features sensational choreography, costumes, special effects, pyrotechnics and an original score.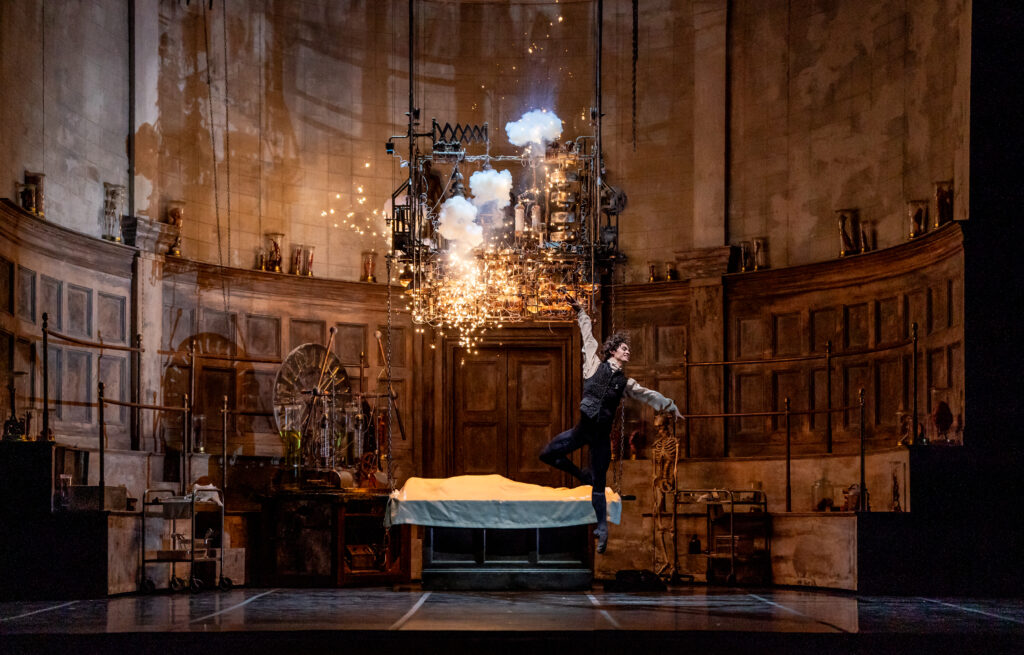 This critically acclaimed interpretation of Mary Shelley's 19th century novel, Frankenstein, is a gothic masterpiece set in the dawn of modern science. The story is an emotional tale of life, death, love and identity. Set to an original sweeping score by Lowell Liebermann, and immersed within the striking stage design by world-renowned artist of premiere ballets and operas John Macfarlane, this must-see Chicago premiere is one of the most innovative works of dance today. Frankenstein is being presented at the historic Lyric Opera House, 20 North Upper Wacker Drive in downtown Chicago, in ten performances only, from October 12–22, 2023.
Frankenstein takes the audience on a captivating journey through scientist Victor Frankenstein's ambitious plan to animate a patchwork of lifeless body parts, setting in motion a detrimental chain of fateful events. John Mcfarlane's cinematic design transports audiences to Shelley's era with stunning period-piece costumes set in a dramatically lit, circular anatomy theater, combined with electrifying pyrotechnics and expertly rendered special effects makeup that transform previous notions of horror into an allegory of the human condition.
The Joffrey Ballet's production of Frankenstein is visually and emotionally haunting, yet stimulating and beautiful to watch from beginning to end. Joffrey Ballet only offers the best in terms of dancing talent, music, costumes, storytelling and choreography. The company can take any story or idea and turn it into a masterpiece on stage. Frankenstein is no exception in this regard and honors Mary Shelley's original, electrifying 1818 horror novel.
The cast from Sunday, October 15th that I attended was as follows: Victor Frankenstein (Alberto Velazquez), Elizabeth Lavanza (Victoria Jaiani), The Creature (Hyuma Kiyosawa), Justine Moritz (Anais Bueno), Henry Clerval (Zachary Manske), Alphonse Frankenstein (Miguel Angel Blanco), Caroline Beaufort (Jeraldine Mendoza), William Frankenstein (Sheppard Littrell), Madame Moritz (Lucia Connolly) and Professor Waldman (Edson Barbosa).
Let us praise this amazing production with the dancers themselves. I have not witnessed such a prestigious cast that danced with this intensity of emotion in quite a long time. The performers themselves commanded a rather hypnotic allure, literally pulling your consciousness to the stage, making you feel like you were part of the story itself. In combination with the music, every movement communicated action, energy and emotion, as the dancers exhibited skilled use of body language and facial expression. This gave vast insight into the characters' feelings, thus accentuating the emotions of each scene.
Frankenstein presented an original musical score by the Lyric Opera Orchestra that played a key role in conveying emotion and tone of the entire performance, ranging from humor, happiness, love, longing, anger, sadness, loss, loneliness and despair. Rather remarkable were the sinister, low, strained woodwind or brass notes during the production's murder scenes, as well as Victor bringing the creature to life. There were also incredible and impressive set design and special effects involved in the story such as amazingly realistic textures on buildings, an intriguing use of angles and curves on the various set elements, which gave a great sense of depth and authenticity. The backgrounds of the outdoor scenes were rather reminiscent of vintage storybook illustrations, which were cleverly nostalgic. Then there were the incredible special effects such as the use of electrical sparks, the pyrotechnic pops and smoke plumes, which all elevated the electrifying and exciting visual aspect of the creation of Frankenstein's creature.
The beautiful, historical costumes for Frankenstein were a feast for the eyes, which consisted of a wide range of late eighteenth century era outfits, which were consistent with the time period of when Frankenstein "lived". The quality and color of every outfit was absolutely stunning and eye-catching. The costume and makeup alone for Frankenstien's creature was marvelous and unique, while also utterly creepy and fascinating. Joffrey Ballet's Frankenstein is not to be missed. I highly recommend this lovely, haunting production.
Photos: Credits in photo captions
Single tickets start at $36 and are available for purchase at Lyric Opera Box Office located at 20 N. Upper Wacker Dr. and by telephone at 312.386.8905, or online at The Joffrey Ballet website.
Frankenstein features live music performed by the Lyric Opera Orchestra, conducted by Scott Speck, Music Director of The Joffrey Ballet.