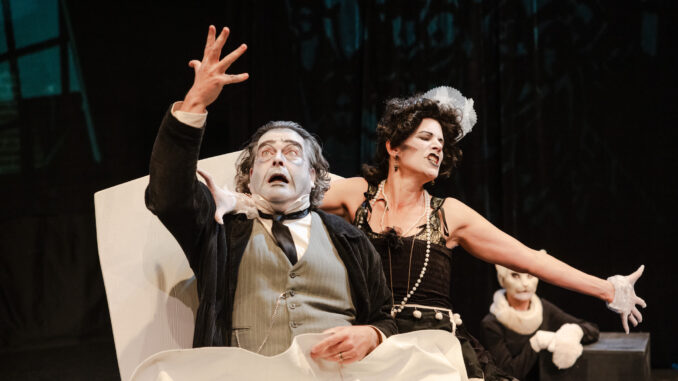 METHUSALEM has been around for quite a while following its first production at the Dramatisches Theatre in Berlin, Germany, in 1924. In fact, German Expressionist painter Georges Grosz created designs (which were not used) for the first show. True to their goal of reviving theatrical pieces which are sadly neglected today – or even ignored entirely – Director Tim Robbins and The Actors' Gang gave new life to the period piece when they first produced the show in 1985. Penned by Ivan Goll and translated by J.M. Ritchie, METHASLEM strode fearlessly into the present.
Now METHUSALEM returns directed by The Actors' Gang founding company member Brent Hinkley. Translator J.M. Ritchie's comments about the play suggest its striking departure from realism: "Artificial or stuffed animals in the room come 'out of their unnatural positions' and celebrate a kind of Animal Farm revolution. A character is divided into three identical masked players representing his Ego, his Superego, and the Id. (Other) masks are worn that represent Greed, Envy, and Curiosity. In a duel, the student is shot and his soul floats upward in the shape of an overcoat; but the departure of the soul does not mean physical death and the student lives on, much as Methusalem lives on, even after he has been shot."
Ana Ming Bostwick-Singer and Scott Harris – Photo by Ashley Randall Photography
Theatrically, METHUSALEM spans techniques from several centuries, as early as the sixteenth, and all the way to the twentieth. Quickly evident is the influence of Italy's Commedia dell'Arte, with its classic masks and energetic tomfoolery. When Commedia Dell'Arte's key elements combine with ideas from the more recent German expressionism of the twentieth century, active thought-provoking ideas must ensue. Precursor to the theater of the absurd, German expressionism offers critiques of big business, government, family structures – all with a hedonistic and sometimes nihilistic bent. Standard to the philosophy of German expressionists, the audience must get the message on its own without relying on text or obvious clues from the author.
Guebri Van Over, Ray Mickshaw, and Pierre Adeli – Photo by Ashley Randall Photography
And so METHUSALEM digs into all of the above and more – with Methusalem a wealthy corporate tycoon with a fey daughter pursued by all manner of suiters and a wife with her own ideas but still imbued with the tight morality of her time. Stuffed animals do in fact revolt, and profiteer Methusalem's dreams are fraught with anxiety about his circumscribed world. When key characters do in fact adhere to cultural expectations, their lives become hopelessly dull and meaningless.
Kathryn Carner, Guebri Van Over, Dora Kiss, Jolene Hjerleid, and Ray Mickshaw – Photo by Ashley Randall Photography
Kudos to the cast, who maintain an energetic high pitch throughout the show. Nods to Scott Harris (Methusalem), Ana Ming Bostwick-Singer (Ida), Kaili Hollister (Amalia), Fernando Siqueira (student), and the host of cast members who take on multiple roles, human and otherwise. Kudos are also in order for Cihan Sahin's production and projection design, Chris Bell's set and props design, Rynn Vogel's costumes, Elif Sezgin's projection illustrations, Bosco Flanagan's lighting, and David Silverman's original artwork. The entire production team did a brilliant job of reproducing a hundred-year-old play for modern tastes. METHUSALEM will definitely appeal to aficionados of theater history, as well as to audiences with a special interest in the various philosophies, opinions, and controversies reflected in the play. This is a thought-provoking and, above all, an entertaining play which will challenge while evoking smiles and chuckles.
Ken Palmer and Guebri Van Over – Photo by Ashley Randall Photography
METHUSALEM OR THE ETERNAL BOURGEOIS runs through December 16, 2023, with performances at 8 p.m. on Thursdays (Pay-What-You-Can; doors open at 7 p.m. for pre-show drinks) and at 9 p.m. on Fridays and Saturdays (doors open at 8 p.m. for pre-show drinks). Tickets on Fridays and Saturdays are $34.99 (students/seniors $25). The Actors' Gang Theater is located at 9070 Venice Blvd., Culver City, CA 90232. For information and reservations, call 310-838-4264, contact the box office via bo*******@th***********.com">email, or go online.