VIKING PUB CRAWL
Saturday, November 18, 2023 from 3 – 6 pm
300+ Costumed Vikings invade Andersonville
for Annual Event Inspired by Swedish St. Morten's Gås Day
CHICAGO (October 26, 2023) – Skol! The Andersonville Chamber of Commerce (ACC) is pleased to host its 6th annual Viking Pub Crawl, welcoming 300+ costumed Vikings to sample drink specials throughout the neighborhood on Saturday, November 18, 2023 from 3 – 6 pm. Check-in begins at 2 pm at Meeting House Tavern, 5025 N. Clark St. Each ticket includes a commemorative glass, an appetizer provided at check-in courtesy of Chef Jacquelyn of The Dinner Belle and access to drink specials at all participating locations. The event also includes a costume contest for Best Individual and Best Group. Tickets ($35 per person) are now available at the Viking Pub Crawl Page. A 20% discount is available for groups of ten or more. Please bring cash for drinks, as some venues do not accept credit cards. A limited number of "authentic" cow horn drinking horn are available for an additional cost. Event is 21+.
Participating locations for the 2023 Andersonville Viking Pub Crawl include:
Atmosphere | 5355 N. Clark St.
Boca Loca Cantina | 1477 W. Winnemac Ave.
Farragut's | 5240 N. Clark St.
First Slice Pie Cafe | 5357 N. Ashland Ave.
Fiya | 5419 N. Clark Ave.
Lonesome Rose | 5310 N. Clark St.
Meeting House Tavern | 5025 N. Clark St.
Parson's Chicken & Fish | 5721 N. Clark St.
Replay Andersonville | 5358 N. Clark St.
Simon's Tavern | 5210 N. Clark St.
The SoFo Tap | 4923 N. Clark St.
Participating locations subject to change.
Sponsors include Meeting House Tavern.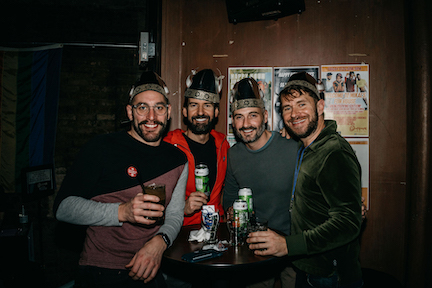 Viking Pub Crawl History
Now in its sixth year, the Viking Pub Crawl traditionally kicks off the Andersonville holiday season and is celebrated mid-November in honor of St. Morten's Gås Day, "gås," meaning "goose" in English. Six years ago, the pub crawl replaced the neighborhood's annual goose parade, and has grown in popularity ever since. ACC has been celebrating some form of St. Morten's in Andersonville since 2005, with the earliest photos showing a small parade of locals including a costumed Viking, Santa Claus, reindeer dog and plastic goose wrangler, accompanied by someone wielding the "Welcome to Andersonville" sign and ringing a small bell to alert shopkeepers and residents alike that the holiday season had finally arrived.
The quirky Andersonville holiday was derived from the Swedish celebration of St. Martin, also known as the "patron saint of South Swedish gastronomes." Traditionally, the Swedes celebrated on St. Martin's Eve, November 10, with a goose dinner, as geese are at their fattest in early November.
About The Andersonville Chamber of Commerce
The Andersonville Chamber of Commerce (ACC) fosters a vibrant environment in which Andersonville businesses can thrive by attracting a diverse customer base; providing business support services and advocacy; and engaging in business attraction, long-range planning, and economic development.
###