If you are looking for a heartwarming, inspirational experience- see this film.
AMERICA'S FAMILY, the debut feature from filmmaker Anike Tourse and production company CHIRLA Liberty Film, releases theatrically in eight markets across the United States between Sunday, November 12 and Tuesday, November 21. This follows screenings at Dances with Films (Grand Jury Award for Featuresand Audience Award for Competition Features) in Los Angeles, CA; Roxbury International Film Festival (Best Narrative Feature Award) in Boston, MA; Maui Film Festival in Maui, HI; and Addis International Film Festival in Addis Ababa, Ethiopia.
In this powerfully moving docudrama about the immigrant experience in America, a mother is arrested and detained while her husband flees for sanctuary and their eldest son is deported to Mexico when ICE raids their home on Thanksgiving, leaving their two American-born children—a young attorney and his teen sister—racing to do whatever they can to reunite the family. Both cinematography and acting were compelling.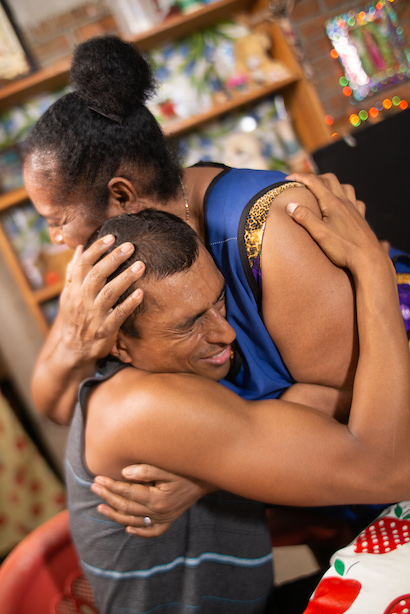 WHO:
Multimedia writer, director, producer, and actor Anike Tourse has credits in front of and behind the camera. In theater, she has written, performed, and toured several solo productions internationally, including at the largest performing arts festival in the world: Edinburgh Fringe Festival. In television, she has written for series such as Girlfriends. In film, she has written and directed the award-winning short AMERICA; I TOO, distributed by New Day Films, and is currently in development on the animated short FRANCES THE FISH.
CHIRLA Liberty Film is led by the Executive Director of the Coalition for Humane Immigrant Rights (CHIRLA), which advocates for the human and civil rights of immigrants and refugees, advancing justice and inclusion through educating, organizing, and defending in the courts, halls of power, and streets. CHIRLA Liberty Film has produced the three-part short film series KNOW YOUR RIGHTS that focuses on empowering audiences with information and insights about the undocumented immigrant and mixed-status family experience, especially with law enforcement.
WHEN & WHERE:
11/12 — West Newton Cinema — 1296 Washington St, West Newton, MA 02465
11/13 — MetroLux Theatres at The Foundry — 285 E 3rd St, Loveland, CO 80537
11/16 — O Cinema South Beach — 1130 Washington Ave, Miami Beach, FL 33139
11/17-11/23 — Village East by Angelika —189 2nd Ave, New York, NY 10003
11/18-11/24 — Gardena Cinema — 14948 Crenshaw Blvd, Gardena, CA 90249
11/19 — Fiesta 5 Theatres — 916 State St, Lot 9, Santa Barbara, CA 93101
11/20 — Calexico 10 Theatres — 2441 Scaroni Ave, Calexico, CA 92231
11/21 — The Loft Cinema — 3233 E Speedway Blvd, Tucson, AZ 85716
WHAT ELSE:
All limited theatrical release screenings will open with the documentary short WE ARE HERE, which premiered at the 2022 Sundance Film Festival to rave reviews. The film is a portrait of what it is like to walk in the shoes of an undocumented immigrant under the age of 30, by sister directors Doménica Castro and Constanza Castro.
Tourse says, "We are thrilled that AMERICA'S FAMILY and WE ARE HERE are inspiring audiences to support immigrant youth and to advocate for laws for family unity in lieu of detention and deportation. The films are resonating with audiences, reminding them that the unjustly deported are a part of our families and communities, and that they should have a say in the future of immigration and the right to remain with or return to their loved ones—as we all should."
CHIRLA Liberty Film and Mixed Operations present
AMERICA'S FAMILY
Running Time: 103 minutes
Writer/Director/Producer: Anike Tourse
Producer: Daniel Solinger, Nadia Voukitchevitch
Executive Producer: Angelica Salas
Associate Producers: Zerihoun Yilma, Emiliana Guereca
Co-Producer: Paulina Villalba, Diana Haro
Cinematographer: Christian Misael Palma Montaño
Editors: Rudik Osorio, Robb Hart, Barry Alexander Brown
Composer/Soundtrack Producer: Raúl Pacheco (of Ozomatli)
Cast: Anike Tourse, Jailene Arias, Emmanuel López Alonso, Ricardo Cisneros, Mauricio Mendoza, Angie Kim, Aida Rodriguez, Baltimore Beltran, Ulises Chávez