Beautiful: The Carole King Musical is just that. It is beautiful. Carole King was inspired to write this song while riding the New York City Subway. Looking at the other riders, she realized how you perceive the world is how it will return to you. Beautiful tells the intriguing story of a teenage girl who, despite obstacles, rises to the top of the popular music genre during the 60's. Her work is so well-known, but I was unaware of how interesting her rise to fame was. Carole Joan Klein was born in 1942 in Manhattan, New York, to a firefighter, Sidney Klein, and a teacher, Eugenia (nee' Cammer). Carol's parents met at Brooklyn College, where her father was a chemistry major and her mother an English/Drama major. They both dropped out of college and married in 1937 at the end of the Great Depression. After the birth of Carol, they bought a two-story duplex in Brooklyn. Carol was a musical prodigy. She learned to play piano from her mother at age three, and by age four, her parents discovered she had perfect pitch. She started school at four and showed exceptional skills in language and math.
By the 1950s, she formed a band in high school called the Co-sines. She altered her name to Carole King and began her entrepreneurship, making demo records with her friend Paul Simon. She had her first official promotional single at age sixteen, "The Right Girl." She also attended Brooklyn College at sixteen, where she met Gerry Goffin, a chemistry student, and pop lyricist well portrayed with all his bravado and foibles by Andrew Mueller. They became a songwriting team and then marriage partners once Carole discovered she was pregnant.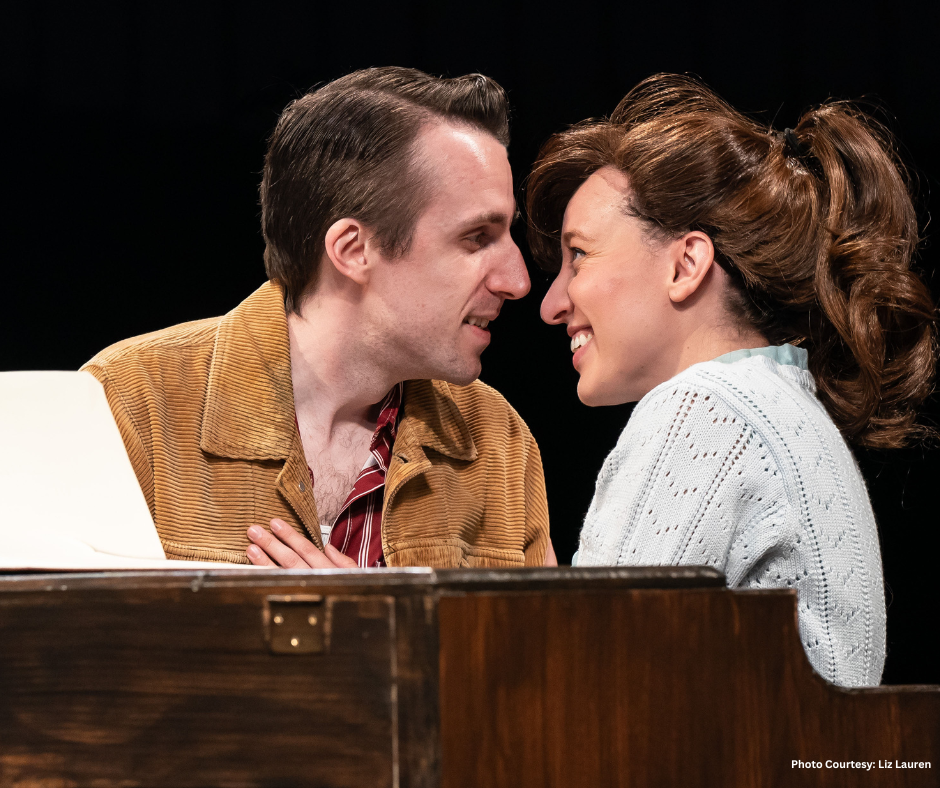 In 2014, Douglas McGrath, film director, actor, and award-winning American screenwriter, wrote the book for the Broadway musical Beautiful, which received a Tony Award for Best Book of a Musical. McGrath begins the story at Carnegie Hall in 1971, where Carole King performs "So Far Away" from her Tapestry Album, including James Taylor on acoustic guitar. Tapestry was the number-one album in the United States for over fifteen weeks straight and went on to garner Album of the Year from the Grammys. After Kaitlyn Davis's powerful, heart-rending rendition of "So Far Away," the story transitions to Brooklyn.
Sixteen-year-old Carole is begging her mother, Genie Klein, played marvelously by Janet Ulrich Brooks as an overbearing comic Jewish mother, to allow her to go to Times Square to sell a song to Donnie Kirchner. Lawrence Grimm, as Kirchner, delivers his quick quips with impeccable timing. The audience was delighted by his performance. When Erica Stephan steps onto the stage as Cynthia Weil, she is electric. Her performance is entirely captivating. Granted, she has marvelous lines, but her delivery and command of the stage are impressive. Justin Albinder deftly embodies Barry Mann as a hypochondriac mooning over his songwriting partner, Cynthia Weil. Weil described their theatrical characters as the Fred and Ethel, comic relief to the competitive team of King and Goffin as Lucy and Desi. Mann and Weil worked as a prolific hit songwriting team for over four decades. In 1987, they achieved Songwriters Hall of Fame status, and in 2010, the Rock & Roll Hall of Fame welcomed them in.
Their "On Broadway" song performed by the Drifters, comprised of actors, singers, and dancers Christian Denzel Bufford, Naiqui Macabroad, Yasir Muhammad, and Juwon Tyrel Perry, is one of my all-time favorite numbers. Melanie Brezill, Arianna Burks, and Alexis J. Roston put on spectacular performances as the stunning Shirelles.
The Media Design by Anthony Churchill's video representations of 1650 Broadway and other scene settings are immensely helpful with the mood and times of the 50s and through the 70s. I am amazed by the movement of the set properties and how seamlessly they are done. Kudos to Scenic Designer Andrew Boyce for that remarkable feat. The whole team of behind-the-scenes superstars: Jessica Fisch, Director, Lighting Design by Jesse Klug, Sound Design by Michael Daly, Sully Ratke's Costume Design, and Sally Zack's Properties Design, engage us in a flawless re-telling of Carole's rise from a behind the scenes teen song stylist to an international singer/songwriter sensation. 
The words and music by Gerry Goffin, Carole King, Barry Mann, and Cynthia Weil are expertly executed by Music Director/ Orchestral Reductions Ryan T. Nelson and conductor Christopher Sargent. While Christopher Wisdom's choreography is vibrant, dynamic, and delightfully entertaining. You feel drawn back to the nostalgic time of the Drifters and Shirelles, Neil Sedaka, Janelle Woods, The Righteous Brothers, and Little Eva. The show features "You've Got a Friend," "One Fine Day," "So Far Away," "Take Good Care of My Baby," "Up on the Roof," "You've Lost That Lovin' Feeling," "Will You Love Me Tomorrow," and "Natural Woman." This is entertainment worthy of the holiday season with heart, laughter, and pathos. At the finale, the audience was on their feet, rocking and rolling to "I Feel the Earth Move."
BEAUTIFUL: THE CAROLE KING MUSICAL is scheduled to run Wednesdays at 1 p.m. and 7:30 p.m., Thursdays at 7:30 p.m., Fridays at 8 p.m., Saturdays at 4 p.m. and 8 p.m., and Sundays at 1 p.m. and 5 p.m., with select Thursday 1:00 p.m. shows. Ticket prices start at $55 (excluding tax and handling fees). Call for student, senior, and military discounts. On Wednesday and Thursday evenings, a limited number of dinner-theatre packages are available for purchase through the Marriott Theatre Box Office. To make a restaurant reservation, please call 847.634.0100. Reservations are strongly recommended. Free parking is available at all performances. To reserve tickets, please call The Marriott Theatre Box Office at 847.634.0200 or go to Marriott Theatre Tickets or Visit MarriottTheatre for more information. Tickets are selling quickly.
Photos: Courtesy of Liz Lauren and Heron Agency