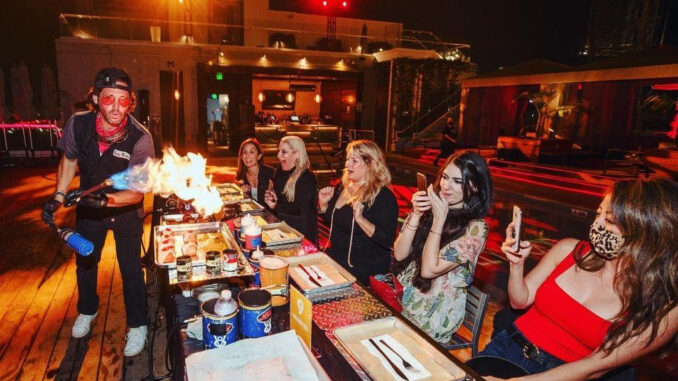 When:
February 12, 2021 @ 6:00 PM – 8:00 PM
2021-02-12T18:00:00-08:00
2021-02-12T20:00:00-08:00
The Gastro Garage is coming back to Los Angles and will be lighting up the sky over Hollywood as they return with their all-new culinary pop-up experience. The popular L.A.-based catering crew will reopen prior to the last outdoor dine-in shutdown, with a weekend dinner series on the rooftop of the W Hollywood. TORCHED will take place Friday and Saturday nights, Feb. 12, 13, 19, 20, 26, 27 and March 5, 6, 12, 13, 19, 20, 26 and 27 at 8:00 pm, with two special seatings for Valentines Day (2/14) at 6:00 and 8:00 pm. This one-of-a-kind, blowtorch-powered evening will feature an 8-course, progressive meal, with a specialty shot and a curated cocktail to round out the evening. All of this while taking in breathtaking views of Los Angeles. Tickets are $100 per person and available at
Eventbrite
. Limited tickets available so reservations are mandatory. Please call (310) 993-3979 or visit 
The Gastro Garage
 for more information.
As seen on the Bravo and Travel Channels, The Gastro Garage creates the ultimate action station using blow torches and molecular gastronomy to create savory donut sliders, skewers, and sides. The menu will feature their 8-course "Mechanics Menu," which features their signature "Gastro Tanks" and "Drill Bits." During this interactive experience, The Gastro Garage will deconstruct classic dishes and reconstruct them into signature "Tanks," made from savory brioche donuts that are filled with nitrous foam in a variety of flavors and then torch them with gourmet toppings, finishing oils, purees, and spices. During this one-of-a-kind, fully immersive dining experience, guests are greeted by "Gastro Mechanics," clad in welding masks that guide them through the process, all while wielding giant blow torches with flames flying high. The rooftop has been designed to look like a drive-through auto service bay, complete with oil drums, hubcaps, vintage motorcycles and of course, rock 'n' roll music and videos playing in the background.
"We are excited to bring some culinary fun back to the community after months of eating in and have created a menu for the W Hollywood that no one has experienced or tasted before," said Adam Manacker, co-founder of The Gastro Garage. "It's all about an immersive experience and experimentation with different flavors, toppings, and oils to create the perfect tank and unique night out under the stars."
The Gastro Mechanics have been wearing masks long before they became COVID mandatory. But their take on masks is quite unique, to say the least. In addition to these talented chefs wearing their own masks, as well as gloves, guests will be required to wear one upon entry to adhere to COVID safety guidelines. Since only a limited number of guests can be accommodated per seating, this smaller sized group event will create a more intimate feel.
Upon arrival, guests will valet their cars, take a private elevator to the rooftop, check-in, have a photo-op, and then are escorted to the bar area for cocktails, which will include a welcome toast with a shot of Bullet Bourbon. Afterward, guests will be entertained by a short story about The Gastro Garage and then devour their first delicious course, which will be the start of this multi-sensory experience. For the next stop, guests will be led by their Mechanics to private tables with spectacular views of the city, where they will dine on five more courses cooked tableside along with a signature cocktail. Then, upon completion of the savory course items, guests will next be guided to an additional cabana by their Mechanic where they will finish the evening with two dessert courses cooked in front of them as they look out onto the magical city lights of L.A.
Each ticket is inclusive of all food, a shot of Bullet and a smokin' specialty cocktail from The Chainsmokers' Jaja Tequila, as well as a photo-op upon arrival. Cash bar is also available. Tables are available in parties of 2 or 6. For larger or other size reservations, please contact The Gastro Garage directly at (310) 993-3979.
8 Course Menu Includes:
Buffalo Blue Chips (Kettle Chips with Blu foam and Gastro Buffalo Sauce)
Cubano Gastro Tank (gruyere foam, torched 12-hour slow roasted pork, Applewood smoked ham, mustard caviar, dill plank)
Piston Pizza Gastro Tank (mozzarella foam, torched shredded mozzarella, tomato basil puree, fresh basil)
Maple Glazed Carrot Pops (torched carrot pops with EVOO, Maldon salt served with maple gravy foam)
Japanese Marinated Short Rib Drill Bit (3 oz Japanese marinated skewer served with white cheddar foam)
Naked Salmon Drill Bit (3 oz Clean Salmon Skewer served with sesame oil, Maldon salt and béarnaise foam)
Princess Buttercup Gastro Tank (double chocolate foam, torched sweet peanut puree, Reese's Peanut Butter Cup, Nutter Butter powder)
Fireberry Gastro Tank (sweet cream cheese foam, torched balsamic strawberries, fresh cracked pepper
For those that require vegetarian or gluten-free options, accommodations can be made with advance notice.
The W Hollywood is offering a special 25% room rate for those who purchase tickets to the experience. Click 
HERE
 to receive the discount.
Over the last few years, The Gastro Garage has traveled all over the world doing pop-up events from L.A., to the Hamptons, to Abu Dhabi. They have been featured on 
BravoTV.com
's digital series, Going Off the Menu and Cooking Channel's Food Paradise as well as have received numerous accolades in notable media outlets such as LA 
Magazine
, 
E! News
, 
Urban Daddy
, 
Biz Bash
, LA Weekly, 
Thrillist
,
 LA Times and more. Since launching in 2014, the Mechanics have been creating pop-up garages for clients such as Ron Howard, Ryan Seacrest, Seth MacFarlane, Kate Hudson, Sean Penn, Charlize Theron, Sarah Silverman, Jon Favreau, Tim Allen, James Corden, Sylvester Stallone, and companies Google, Hulu, Microsoft, HBO, Paramount, Warner Bros., Sony, Disney, Insomniac and FOX's American Idol to name a few.
L.A. hospitality veterans, Stewart Levine, Adam Manacker, and James Campbell, who together have more than 60 years of experience in the industry, created the Gastro Garage concept three years ago. Levine, an actor by trade, has been honing his skills in the restaurant and event world for the past 25 years, working with innovators such as José Andrés and Wolfgang Puck. Manacker has led operations at iconic Hollywood venues such as The House of Blues Sunset Strip and The Highlands Hollywood. Later starting the boutique event company, Deep Lifestyle Group, Adam brings his extensive experience to lead Gastro Garage to new levels. Born and raised in Eastern Canada, Campbell has held numerous hospitality-focused positions in his 15 years of experience, including founder of a Nova Scotia-based catering company, senior management at notable hotel brands, such as the Fairmont and W Hotels, director of food and beverage at the Le Méridien Delfina, and Banquets Director with SBE at the SLS Hotel in Beverly Hills. With the founders' combined experience and passion for food and service, Gastro Garage is consistently growing and breaking boundaries, and is available for private events and pop-ups around the Southern California area.