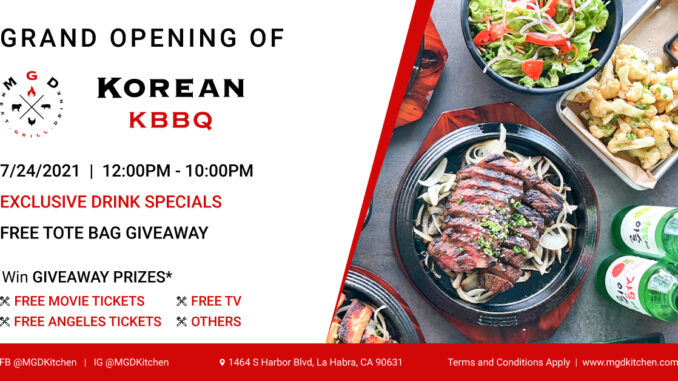 When:
July 24, 2021 @ 12:00 PM – 10:00 PM
2021-07-24T12:00:00-07:00
2021-07-24T22:00:00-07:00
Where:
The Row on Harbor
1464 S Harbor Blvd
La Habra, CA 90631
USA

Welcome to the Grand Opening of MGD Korean BBQ – La Habra –
The newly renovated Korean Kitchen Bar and Grill makes its grand debut as a premier Korean BBQ foodie destination of Orange County.
Join us on July 24th from 12:00 PM – 10:00 PM for MGD Korean BBQ's official GRAND OPENING at the Row on Harbor!
Where: 1464 S Harbor Blvd, La Habra, CA 90631
All Guests dining on July 24th will receive an opportunity to win amazing prizes!!!
First (50) guests in line that dine-in will receive these FREE Goodies! (LINE UP EARLY!)
FREE MGD Korean BBQ Tote Bag
Giveaway Raffle Tickets for a chance to win
Angels Game Tickets ⚾
50in TV 📺
AMC Gift Card 🎫
And More Amazing Prizes!!!
FREE $5 MGD Cash Coupon* (terms and conditions apply)
MGD Korean BBQ at a Glance
ALL-YOU-CAN-EAT only $21.95!!
Premium Beef Selection
Drink Specials
50% off Soju + HITE
$3.00 well Drinks
$3.00 Modelo's
Follow us on social
👉 Make sure to LIKE us on Facebook 👍MGD Korean Kitchen and FOLLOW us on Instagram @mgdkitchen for more updates!
👉 Leave us a review on Yelp:www.yelp.com/mgd-korean-kitchen or visit our Website:mgdkitchen.com/ and order online
Thank you so much for the continued support!
Terms & Conditions Apply
All offers not eligible with any other offers
Available Beer: CASS + HITE + Modelos / Available Soju: ORIGINAL + FRESH
90-minute time limit. Regular price after 90 minutes
Management can and will CUT customers off in the event of intoxication
Must finish previous bottles in order to order more
Last Bottomless order will be taken at 9:30PM
Must be 21+ to order beer + soju beverages
RSVP's give us a forecast of how many people will attend our event, but as a reminder: **RSVP IS NOT NECESSARY TO ATTEND. RSVP'S OR TICKETS HOLD NO VALUE. RSVP'S GUARANTEE NO PLACE IN LINE. TICKETS DO NOT NEED TO BE PRINTED FOR DAY-OF EVENT. EVENT STARTS AT 12:00 PM AND ENDS AT 10:00 PM** Thank you.
RSVP HERE: https://www.eventbrite.com/e/mgd-korean-bbq-grand-opening-tickets-163119830805